MEB recently completed over one mile of vertical, cast-in-place concrete floodwall at the Norfolk Naval Shipyard (NNSY). The P653 Dry Dock Flood Improvements project was a critical step in protecting infrastructure, facilities, and equipment vital to national security from flooding from the Elizabeth River.
Despite working in congested areas on an extremely active shipyard, the MEB team was able to deliver this project nine months early to the owner. Gary Worley, MEB Project Manager, said, "The project finishing 9 months early was due largely to MEB's ability to instill confidence in NAVFAC and NAVSEA that once we entered an area to perform work that we would do everything we could to minimize impact to shipyard efforts while rapidly completing the specified work."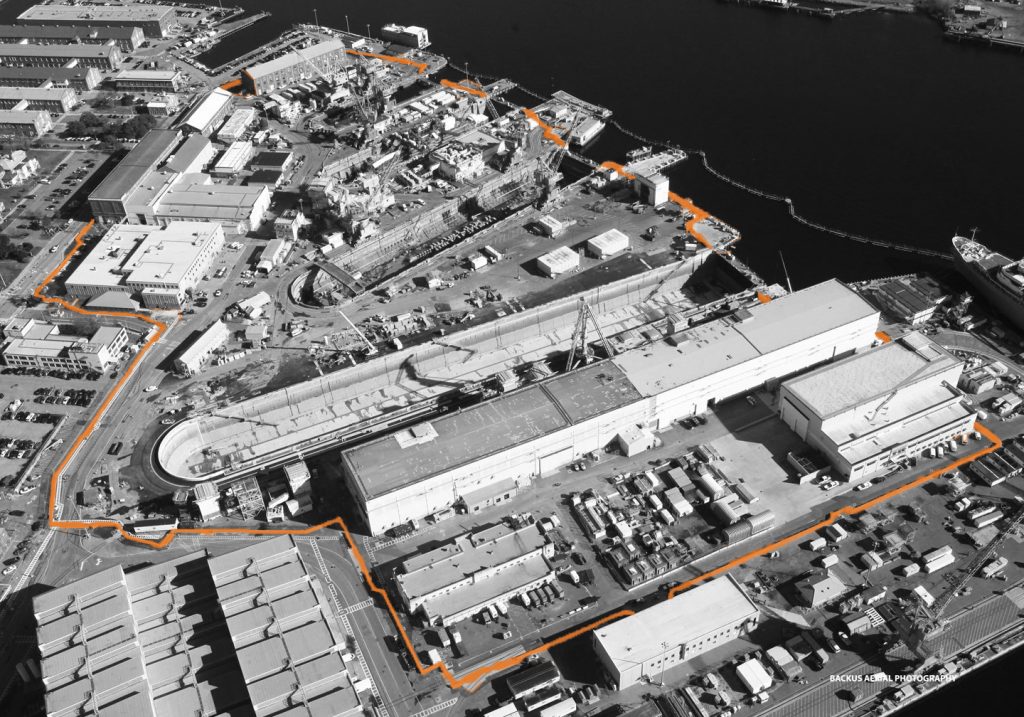 Because of this project's complexity and large work area, it was completed in 12 phases. While some portions were completed simultaneously, the final phase took significantly more coordinating and planning. "Phase 12 was located along the main road of the shipyard, essentially splitting the shipyard in half. Complex traffic plans were created to direct traffic in multiple phases to allow for the construction of the floodwall," said MEB Project Engineer Matt Keene. "Ahead of phase 12, some doubted the completion of phase 12 to occur until much later; however, with the use of traffic signals, proper planning, and unique construction techniques, the MEB team was able to complete the final phase nine months ahead of schedule."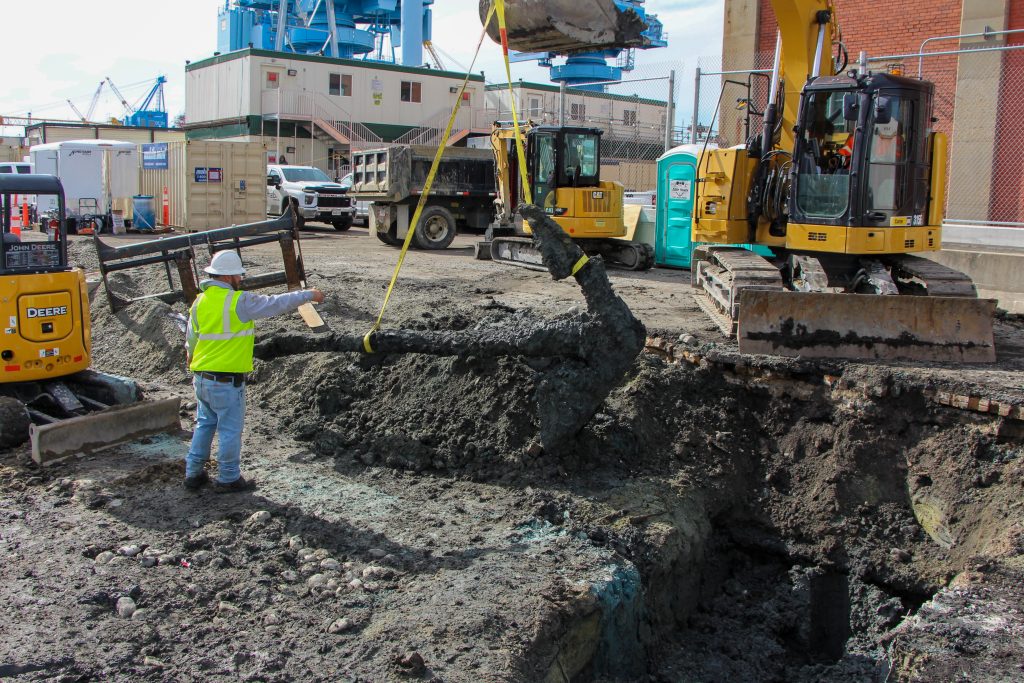 As the oldest active shipyard in the United States, our team at NNSY was prepared for challenges as the floodwall traversed almost 6,000 LF of historic infrastructure. Despite the team's preparation, there were still a few surprises along the way. "MEB was aware of the historical significance of the drydock, but we were still surprised to uncover three 18th-century anchors in our work area," said Project Manager Gary Worley. Our team coordinated the removal of these anchors with the shipyard's archeologist to preserve them as historical artifacts.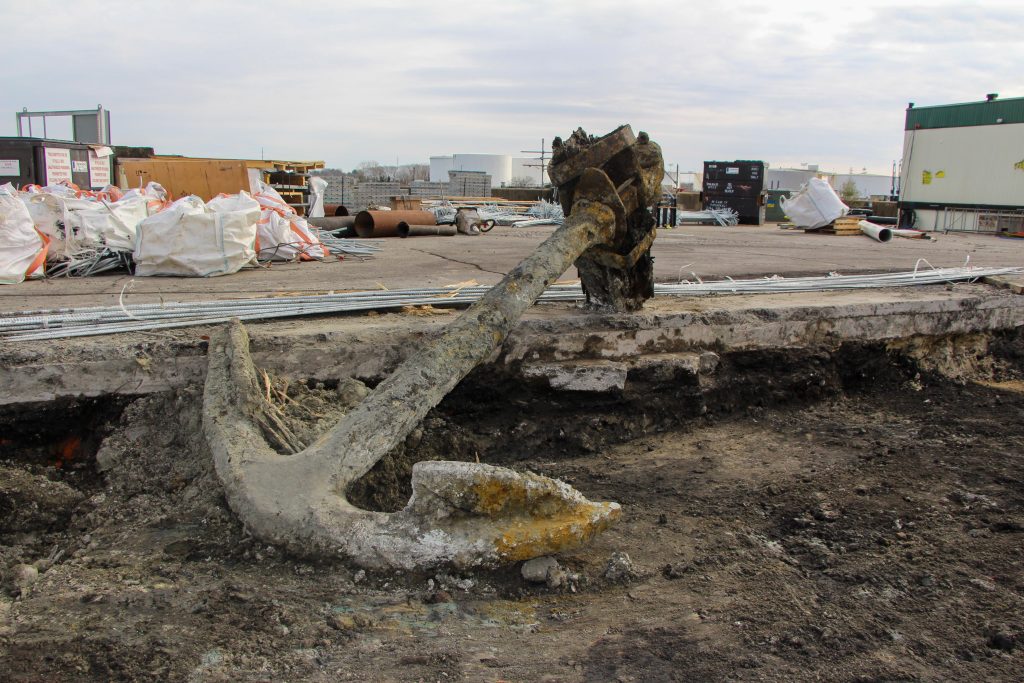 This project included other challenges, such as controlling groundwater seepage under the floodwall. An innovative approach to solve this included deep cement bentonite cutoff walls to prevent water intrusion. Specialized processes to install the "wall" included cement-bentonite slurry wall, jet grouting, and open trench grouting. It extended to varying depths between 5 and 22 feet below 5,070 LF of the cast-in-place floodwall.
"It [the cutoff wall] conflicted with every utility the floodwall crossed. The design dictated that these utilities be replaced, and the schedule dictated that all this be accomplished quickly without interruption to shipyard facilities.  The team successfully navigated each phase of work by isolating and replacing deep utilities in very tight work areas," Project Manager Gary Worley on constructing the cutoff wall.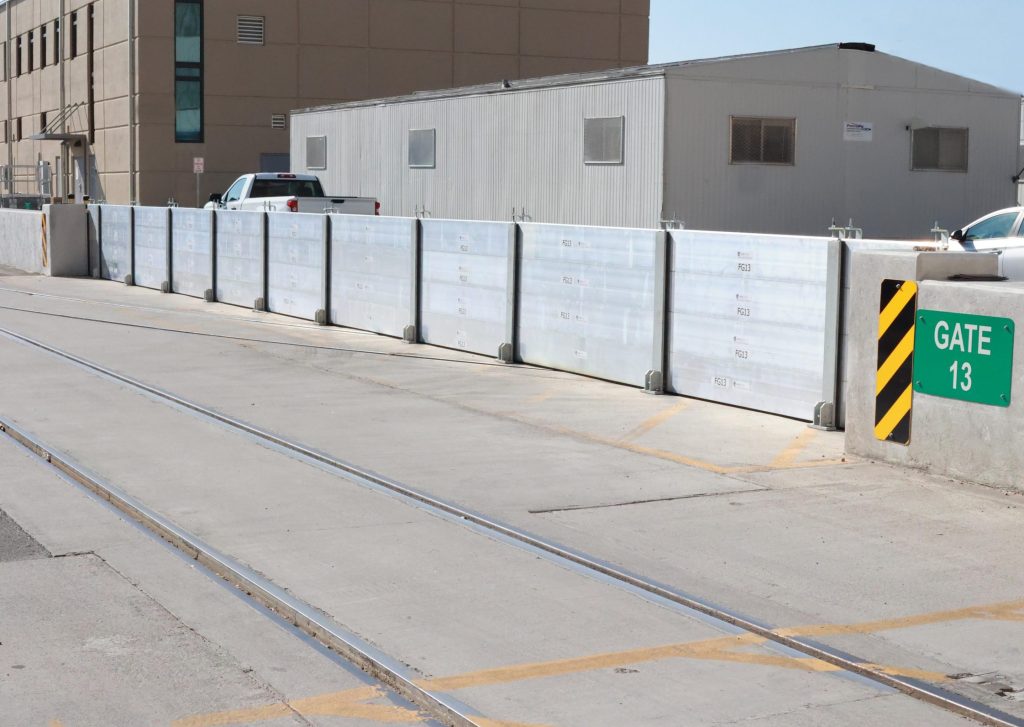 MEB is no stranger to the operations of the shipyard. We have worked on different projects there over the last 15 years, building strong relationships with the owners and engineers at NNSY. "Without a common goal and having a good relationship with these parties, proper planning, and execution would have been impossible," said Matt Keene, Project Engineer.
"The schedule success was largely due to our team's coordination and communication efforts with NAVFAC and NAVSEA as the work was planned and executed. MEB routinely worked through unforeseen issues and logistical challenges to meet target production dates leading to successfully improving on phase completion required dates," said Tim Griffin, Vice President – Environmental and Civil, on the early completion.
"The ultimate result of MEB's dedicated staff and partnership has provided NNSY with a comprehensive flood protection system developed specifically to deal with the effects of storm surge and waves that protects the submarine dry docks and associated nuclear support facilities, up to the 500-year floodplain. Positioning the shipyard in a safer and more productive work environment as they perform overhauls on our nation's most strategic assets." – Norfolk Naval Shipyard Representative
We look forward to future work at NNSY as our team continues construction on the P-678 Dry Dock 8 Saltwater System for CVN-78 Aircraft Carriers project.